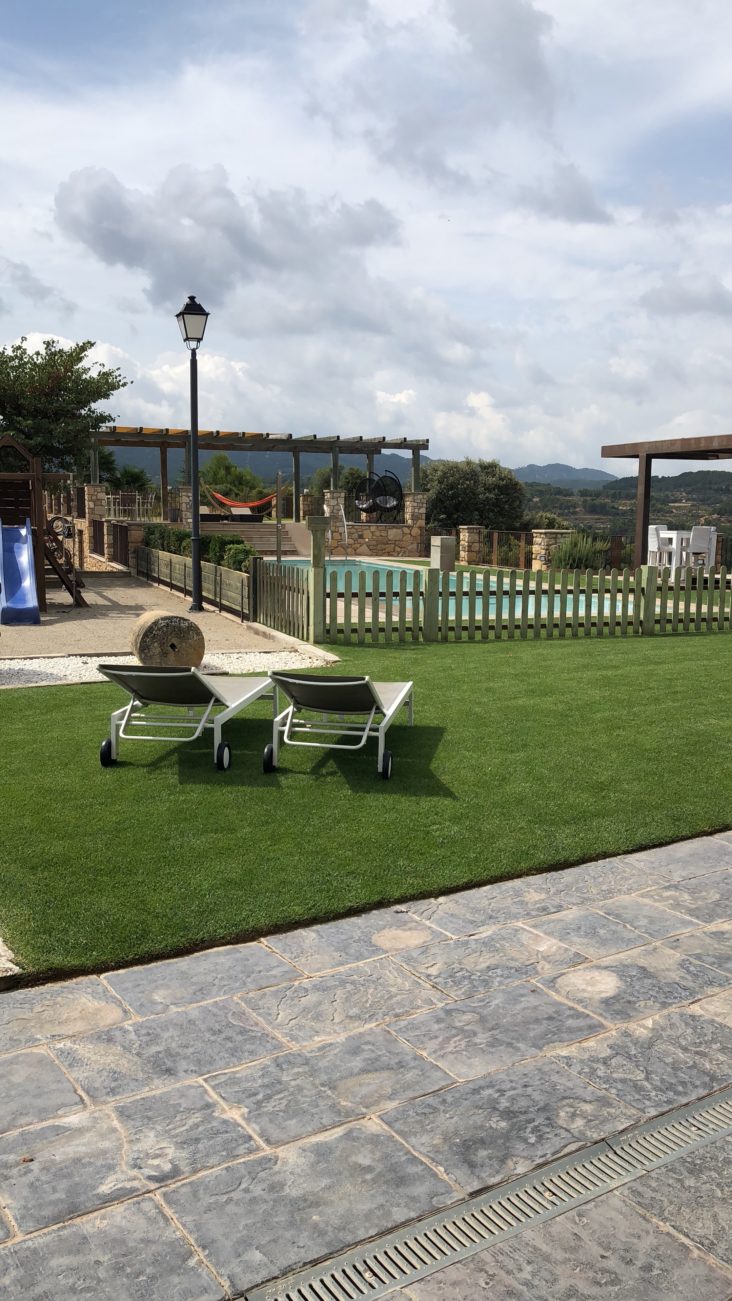 I said yesterday that I would fill you in more on our accomodation, so here goes. In the past we have stayed in the various villas such as Villa Wow, Villa Hollywood and Villa Rustica. All lovely, all very different. This one though is something quite different.
And we nearly didn't come here.
Earlier in the year when we had a planning meeting (yes, I know, amazing, but these things are planned). This basically consists of us all sitting around in Rachel and Tibu's living room looking at our phones. Now this is pretty much what we do most of the time, but this time we aren't on our phones because we are bored of each other's company, but because we have a purpose. We are villa hunting. Air B'n'B, Owners Direct, findmeaveryspecificvillainspain.com, we search them all. When one of us finds one they plug their phone into the telly and the group ruminates over it. The problem though is the more often we do this (and the older and more set in our ways we become) our search criteria is becoming very specific:
Near to an airport that EasyJet fly to.
3 bedrooms – no one is sleeping on a sofa bed in this team.
2 bathroom (min) – otherwise by the time we all got though our morning ablutions it would be lunchtime.
WiFi – it would be inhumane to stay in a place that didn't have any.
Private Pool – no one wants to see a group of pasty middle aged friends by the pool except for the pasty middle aged friends themselves.
Not overlooked – i.e. not in a complex.
This however is just the bear minimum and over the years we have become more accustomed to more luxurious elements such as ensuites, extra drinks fridges and table tennis tables (that's mainly for Rachel). With us not wanting to be overlooked we normally end up in villas in the middle of nowhere. The only neighbours we had in Villa Hollywood were goats. At the planning meeting after hours and hours of research (and drinking) we found a lovely looking place in the middle of a vineyard. It was perfect. We put in a request to stay via the website and then swayed home.
The next day we discovered that it wasn't available. Gutted. However a few days later Nik and Rach came across this place. It was bit more than our budget, but we decided to go for it. As I said in the first blog, it looked amazing (Can I remind you again that we don't take kindly to tardy ness here. If you missed the previous days blogs, go back and read them and then come back here. We will wait for you).
When the three of us arrived TomTom took us through the village of el Vilosell and out onto a dirt track up to the villa. It's not really a villa but a barn conversion, like Villa Rustica, but that is where the comparisons end. Let's start with our basic checklist:
Near to an airport that EasyJet fly to – Barcelona airport is about 90 mins away
3 bedrooms – 2 doubles, 1 twin.
2 bathroom (min) – Master bedroom has ensuite plus family bathroom and outside toilet (which is better than it sounds).
WiFi – yep, but the walls are so thick it has a limited range (there's a first world problem if ever I heard one).
Private Pool – yep, and it's actually a normal pool, a toddlers pool and has a waterfall.
Not overlooked – nope, we are in the middle of olive groves….although there is the village on the hill, but more about that tomorrow.
In addition to the above we have 3 dining areas; 3 sunbathing areas; a hot tub; a hammock; yeah you did read that right…a hot tub; 2 of what Rachel calls "Lyndsey de Paul" chairs i.e. those hanging basket chairs which were very fashionable in the 1970's; you are still thinking about the hot tube aren't you?; a play area complete with swings slide and Wendy House; table tennis; a trampoline; a washing machine and tumble dryer; you are now thinking "did he just say trampoline?". Yes I did. It's just like the one on the John Lewis Christmas ad; 4 mountain bikes and helmets BUT…no drinks fridge (there goes this places 5 star review on TripAdvisor).
When Rachel walked in she went into full "mum" mode and began waxing lyrical about how it would be perfect for a family as you would never have to leave the place, and then looked slightly crest fallen as she remembered that both her boys are now grown up and she had discovered this place 15 years too late.
It's taken us a couple of days just to sit in every seat, but I think we have used most of the facilities. We have established that pool is still cool, even after one of Spain's hottest summers ever; if five of you get into the hot tub at one time you displace so much water that Karen nearly drowns when she sits down; I laugh like a little girl when the jets are switched on (I'm VERY ticklish); the Lyndsey De Paul seats are cable tied to the railings….so they don't get blown away…but more about the weather another day.
But we haven't named this villa, Villa Grand Designs because of all this frippery, its down to the finish. We have concluded that the owner is an electrician as there are plug sockets everywhere (including the end of the garden); they have used LED light strips and uplighters everywhere; the colour of the sockets even match the colour of the brickwork; the pergola above the hot tub (did I mention the hot tub?) is made out of metal, has solar panels as a sun shield which powers the LED lights within it. Seriously Kevin McCloud would be beside himself with this place. Now is they had only thought about putting in that extra drinks fridge.
Tomorrow: The Village