Trains and Boats and Planes (minus the boats and planes)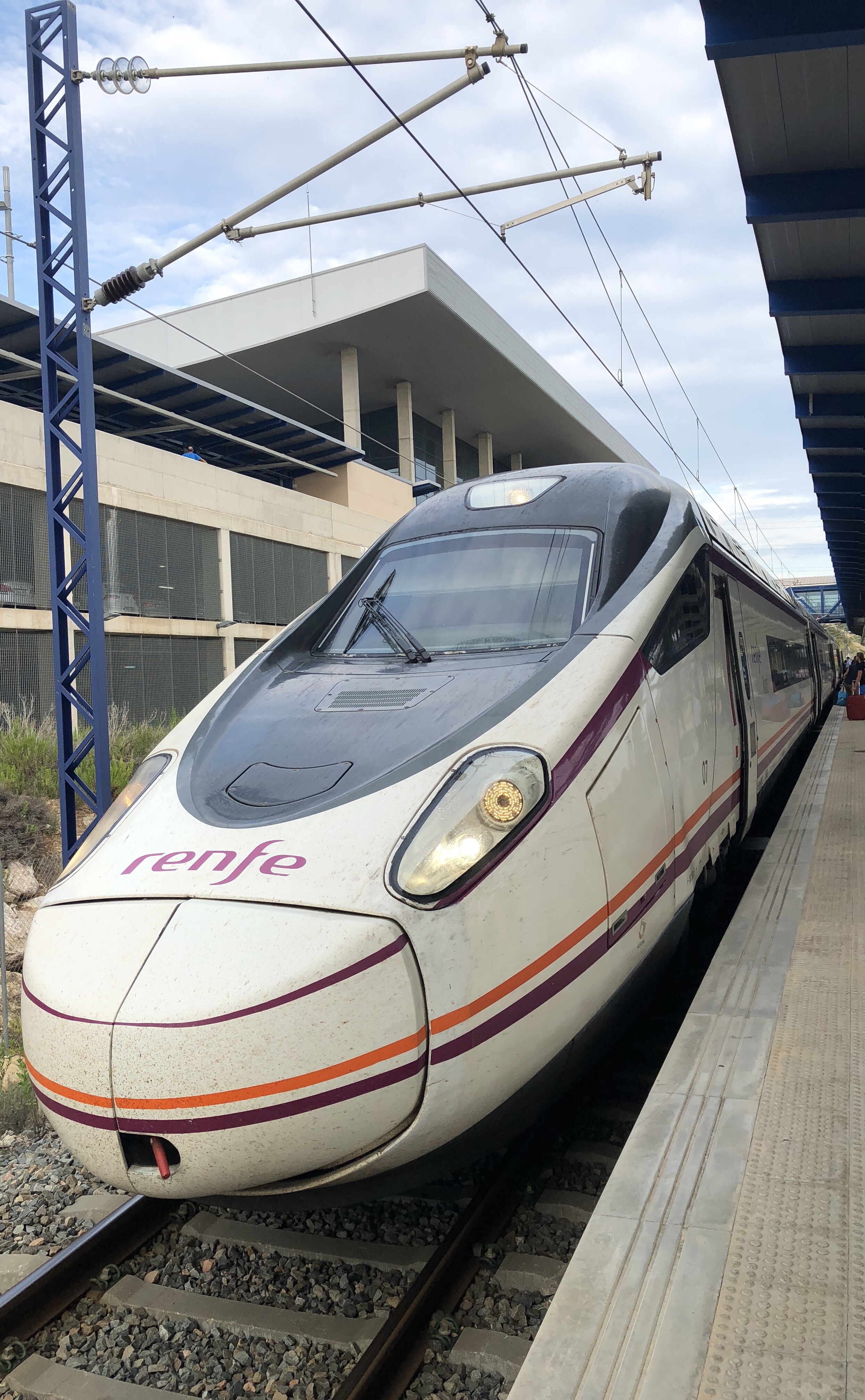 We decided that we would take the train to Barcelona. The last time we went anywhere near Barca (as the locals and pretentious English men call it) it was a nightmare to drive in. Plus Spain has the lovely fast High Speed trains, so what's not to like about taking the train.
We could get the train from either Lleida or Camp de Tarragona. We opted to go camp (that's unlike me). Tibu had managed to find some cheap tickets on the 09:30 so we booked our tickets online over lunch on his phone. Remember the days when booking a train ticket abroad involved an embarrassing conversation at the train station? These days you do it online and then the conversation is all about how you get the tickets onto each other's phone:
"Have you got airdrop switched on?"
"Open it in iBooks"
"Why won't it go into my wallet?"
Much more civilised but it actually takes twice as long. Camp de Tarragona is based is the middle of nowhere. Well, not strictly nowhere. It is 8km north of Tarragona between the settlements of La Secuita and Perafort. Basically, imagine replacing Hoscar station with a station as big as Euston. (I know that is such an amazingly niche reference which only the residents of West Lancashire will get, but there you go.)
The first sign that you are approaching a railways station is the number of cars which line the approach road by people who would rather not pay for the parking (a bit like they do at Gathurst. The Southport to Wigan line really is providing me with a wealth of examples isn't it? Now if there was only a Spanish example of a station on which they spent hundred of thousands of pounds building a ticket office, waiting room and cafe only to close it down a few years later, I could say, a bit like Burscough). Being tourists, we did the proper thing and paid to park. Looks like the other tourists had the same idea. I have never seen so many hire cars parked in one place before (other than at the hire car place, obvs).
With this being a newly opened High Speed route, I imagine it is the blueprint for Britain's HS2. I have to say, I have never seen HS1 yet, so I just hope I can keep up with the plot of HS2 when it eventually comes out. From what I can gather, the plot is that a mad megalomaniac spends billions to make it quicker for Northerners to get to London to have meetings with their Southern Overlords which they could do by video conferencing anyway, but that would involve the Southern Overlords having to move a few hundred yards to a dedicated video conferencing room, so spending billions on a new train line seems to be a much better option. Apparently, by the time it will be built, all the Northerners will live in one big house (a bit like Big Brother) which will generate power. I think that is the plot. It sounds a bit Orwellian and far fetched to me personally.
The station at Camp de Tarragona was opened 6 years ago and boasts 648 parking spaces (plus the same amount again on the approach road), executive lounges and a grand total of 2 shops (a cafe and a car rental office….which come to think of it could explain all the hire cars in the car park). There are plenty of other empty outlets available for hire; but I get the impression this particular station isn't quite the throbbing commuter station they hoped it would be.
After we had gone through security (apparently they do that on all Spanish trains now) we headed across the deserted bridge onto a nearly as deserted platform (I counted 12 people including ourselves). The train was a couple of minutes late, but it did go 259km/hr and got us to Barcelona in 40 minutes and like commuter trains the world over, no one spoke to each other.
Once there, we breakfasted in the second closet cafe to station (never go to the closest, that is full of tourists who just go to the first place they see. Always go to the second closest. It's a bit like the wine thing from the other day). We then headed up to the Sagrada Familia at 11:00 ish to find the next entry ticket we could buy was at 19:00. Our train home was booked at 18:00. Oh well. Leisurely lunch anyone?